Shane Torres Kills at the Tanker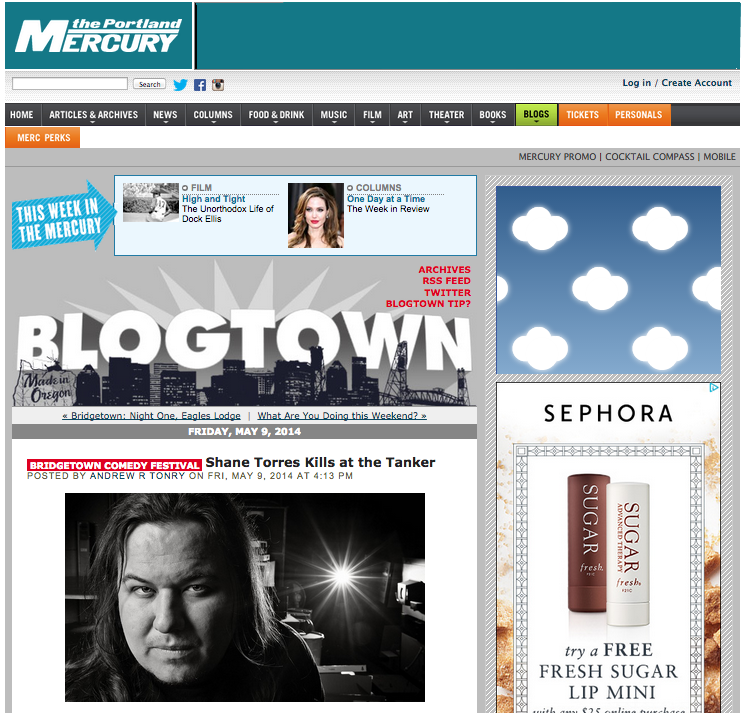 After catching Late Night Action with Alison I headed to deep Hawthorne, the Barmuda triangle which, despite a slew of fine new venues, remains to me the spiritual center of the Bridgetown. All my best memories from the fest have come down around 49th, popping between different stages not so much in search of particular performers but surprise; the unknown, a new comic on the come-up or a room on fire.
I remember Don Frost riffing a riotous set of shadow puppets thanks to bad stage lighting. James Adomian in year one, dressed in a suit, his whole act a marvelous, uncanny, violently twisted George W. Bush impersonation. Duncan Trussel with his creepy, haunted puppet. A very green Ron Funches taking off his shirt. And, of course, the seemingly infinite gulf of emotions, quality, embarrassment and triumph at the Tanker.
On the way in I met a sweet couple smoking pot who'd come up from Eugene. They'd been every year but the first. They were generous and wondered where might be best to park their RV for the night. I did my best to reciprocate. Real comedy fans, those two. Made me feel like Bridgetown was doing everything right.
I went inside and pulled up a seat at the bar and, in true Tanker fashion, paid witness to something very strange, sad and occasionally funny. In every joke the tattoo covered comic lashed himself. With Mother's Day coming up he closed with a bit about how the holiday works when your mom's been dead for 14 years. "I know you didn't know," he says. "It's OK. Don't be sorry. It's not your fault."
Yeesh.
But it was real, goddamnit. And while perhaps not overly hilarious, it put on display some of stand up's other transmutive, expressive power: the conveyance of dismay, the sharing of empathy, openness, personal exorcism by public sharing.
Next up was Shane Torres, who would be the final act of the night. He spent a few minutes riffing, generally lifting the room, altering its rhythms, pumping in a lighter oxygen.
As it was the Tanker, a glorified, supercharged open mic, Torres took the opportunity to work a new conceit: how being the first of anything must be a weird boondoggle. In this case he mused on the first undercover cop, undergoing a string of failures, trial and error and accidental invention. It was working. The kernel is strong.
But when Torres shifted into some more polished material, about his first trip to donate plasma, he really took flight. It was staggering, brutal, picturesque and unrelentingly earnest. In other words: he took us there too. We now know how dirty and embarrassing and desperate it feels to donate plasma for money amongst rows of other dirtbags we judge, yet are no better. We even know now a bit of the science—after the blood is drawn all the nutrients are syphoned out your "cold, dead blood" gets pumped back in.
Like the comic before him, the subject of Torres' bit was quite dark, but he played it differently: with snap and kick as the loutish, deadbeat clown.
He was killing.
He had the place in the palm of his hand and when he told us so we acknowledged with knowing laughs. It was masterful, transcendent and mind-boggling—the first set of the young fest I'd seen that rattled my cage, made my eyes well up and put me totally in the moment, unable to control my heaving belly laughs, stunned all the while by the places he took me that heretofore I knew nothing of.
Ahh yes, it's good to back at Bridgetown.