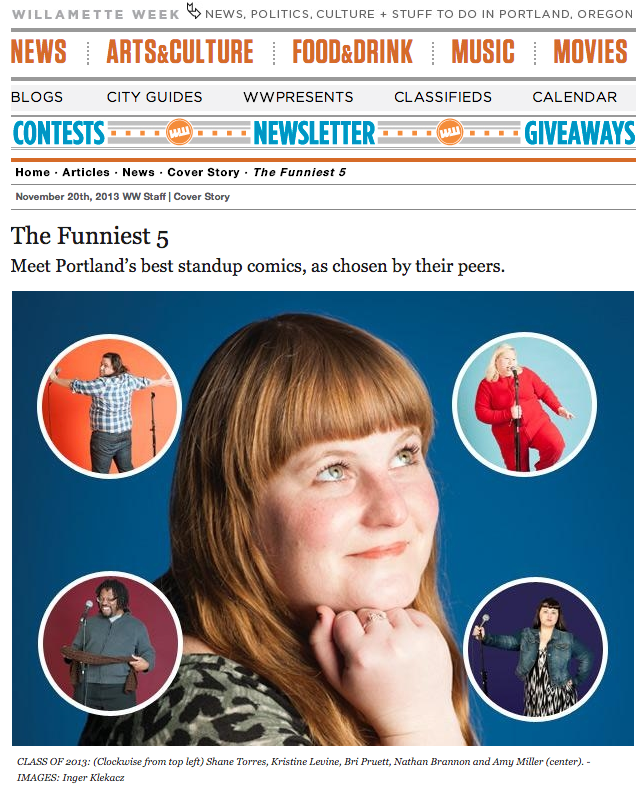 Portland comedy shows often feel like house parties. Half the people know each other, and everyone else is bonding over $2 tall boys while griping about OkCupid skeezeballs and roommates who flood the kitchen by using dish soap in the dishwasher.
It's a chummy scene, and it explains as much about Portland's recent comedy boom as the opening of Helium Comedy Club in 2010 or the growth of the uber-popular Bridgetown Comedy Festival. This isn't a town where newcomers are booed off the stage. In Portland, they're invited out for bloody marys and waffles after their first open mic.
There are probably 100 people in this city who identify as standup comics, but only a handful with material you'll try stealing on your next date. Unless you go to comedy shows every week (see a list here), it's hard to know who's worth seeing. It doesn't help that Portland comics are so nice to each other. Ask them who's funny—or better yet, what hack needs to burn the gluten-free heroin jokes—and they'll flee the conversation.
There are local comedy contests, but they heavily favor those who can convince their friends to show up and buy drinks. Portland has too many comics for that system to work. We wanted answers supported by science. So we sent ballots to people in the know—comics, bookers, managers, podcasters, critics—and asked them to vote, anonymously, for their favorite local comics. More than 80 responded, and the resulting list is a testament to Portland's status as a burgeoning comedy hub. While some Portland comedians move south for TV work—looking at you, Ian Karmel and Ron Funches—somebody's got to make us laugh about Vista Bridge jumpers and our city's Alabama-quality public schools.
According to their peers, these are the five funniest people in Portland. They include a Texan who was fired from Kinko's after a customer complained about him on Yelp, a Berkeley grad who got into comedy from social work and a former porn-store clerk who found a dead body in the jack shack.