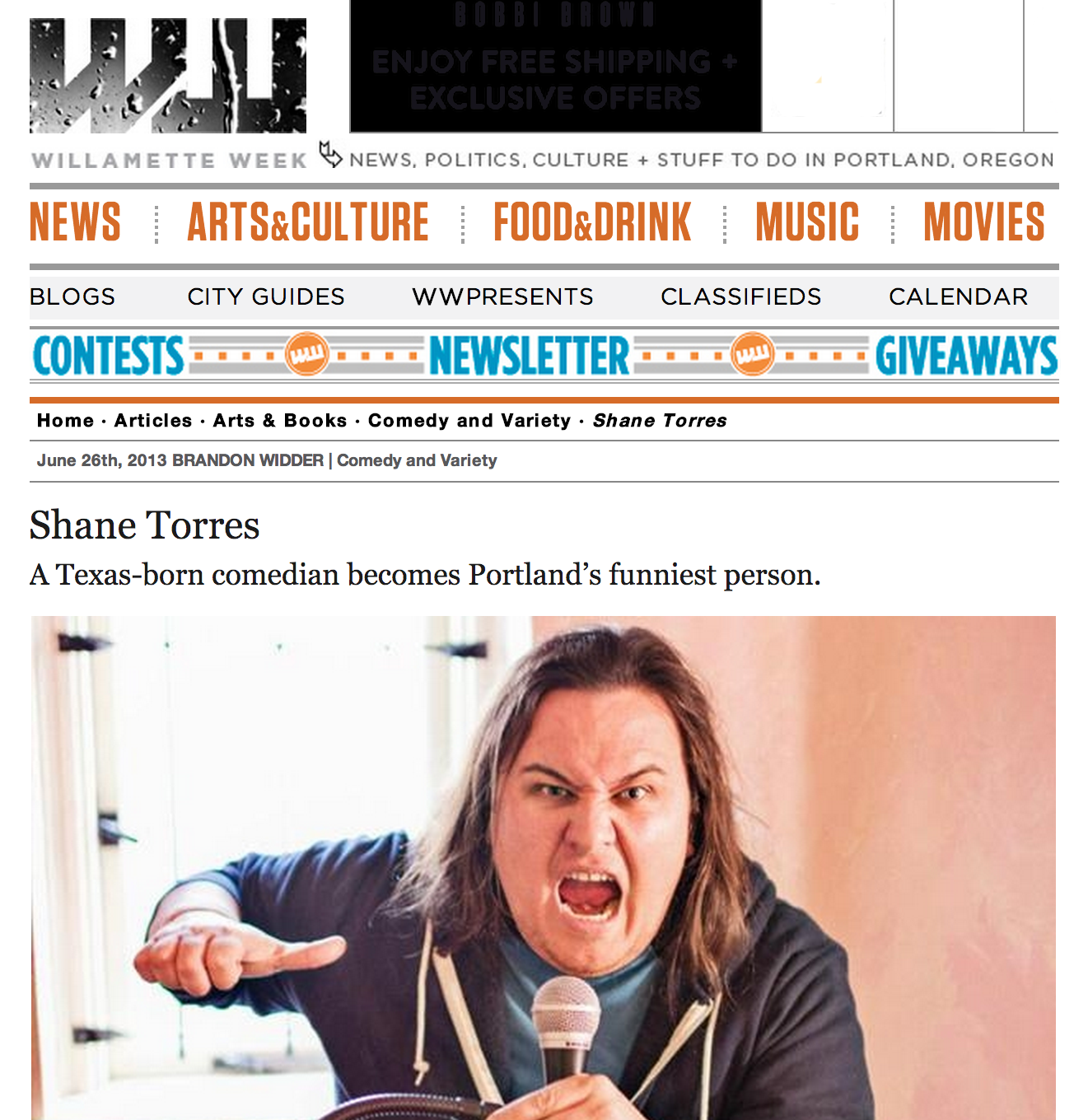 Nearly seven years ago, comedian Shane Torres thought the best joke in his arsenal was the first one he'd ever written. Apparently the open-mic patrons at the Hungry Tiger Too didn't think naming his first child "Abortion" was quite as funny as he did.
"I thought I fucking crushed it," says Torres, hunched over a shot of well whiskey at the White Eagle. "The host congratulated me—he sounded sincere. My friends actually felt worse for me about my comedy set than about me losing my job waiting tables."
A lot can change in seven years. In early June, Torres—a long-haired, heavyset Texan who describes himself as a "Native-American Meatloaf impersonator"—was named Portland's Funniest Person at Helium's annual competition. With jokes about getting fired, he seems the quintessential Portland underachiever. "I'm quite poor," begins one joke. "I was so broke that a few months ago I had to donate plasma…I don't know anyone who's ever done it before, so I googled 'plasma centers Portland' and there are Yelp reviews for plasma centers, guys. And they're not like a Yelp review for a T.G.I. Fridays where they're like 'Try the Montana burger, Steve's the best waiter!' That's not happening with a Yelp review for a plasma center. Essentially, a Yelp review of a plasma center is an argument you'd expect to see in the parking lot of a plasma center."
"My comedy started to change when I wasn't afraid to talk about how I felt," says the 31-year-old. "I remember being really depressed and lonely at one point in my life. I had friends, but I didn't have someone I could lean on or bleed my heart out to."
Call him out for being a cornball, but being honest paid off during a set at Suki's Bar and Grill, when Torres decided to riff on the text-message relationship he'd built with a complete stranger. It was early in his standup career, and he remembers the sound of genuine laughter and other comics congratulating him on a job well done.
Torres came to comedy only after moving to Portland. During his mid-20s, at the insistence of a good high-school friend living in Portland, he left a bartending gig in Fort Worth, Texas, and drove west. After stumbling on a local comedy showcase, he began bumming around open mics and eventually moved in with comedians—a situation that hasn't changed much, as he currently bunks with local comedy king Ian Karmel.
Like many of the city's comedians, Torres has his sights set outside Portland. He hopes to move to New York by year's end.
"There is a lot more for us to do to make Portland comedy a scene that is considered one of the best in the country," he says. "If we want our scene to be better, we have to be better."